Business Solutions
MMEM provides a range of online tools and capabilities for our customers. MMEM is committed to developing further initiatives within e-commerce and other technology solutions as a means of continuing to support business efficiency and reductions in supply chain costs.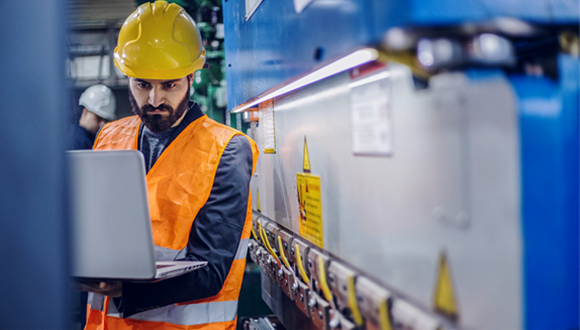 MMEM Online
MMEM's easy to use online services provide customers of all sizes fast access to detailed product information, customised pricing, real-time stock availability, accessories and alternatives, place an order and review backorders, invoices, statements, delivery status and requisitions. MMEM's online catalogue is a comprehensive electrical online catalogue and service portal.
Document Automation
Automating transactions and documents that need to be manually processed gives your staff more time to focus on value adding activities. At MMEM we have implemented a suite of online services to support customers solve their transactional pinch points. MMEM currently exchange e-documents from Purchase Orders to Invoices, including Change Orders, Order Acknowledgement, Advance Shipping Notices, Credit Notes and Consolidated Invoices Files.
Inventory Management
Making sure your staff have the products they need to finish the job on time is a common issue across all businesses. MMEM use real data and information to apply the best fit solution to your business. The goal is to maintain continuity of your workflows, reduce overall total cost outlay and provide practical access to products on-site.
Online Back-order Status
MMEM have now made customer back-orders viewable online, which allows you to instantly check the status of your backorders and assist in the planning of your work. The information is updated daily providing an update in status that is linked directly with each branch's business system.
System Integration
MMEM integrates with the major workflow management & accounting systems enabling customers of all sizes to reap the benefits of a fully automated, paperless e-business relationship. MMEM can integrate with any system that can send or receive a file.
Online Statements & Invoices
MMEM offers our account customers convenience, time and cost saving opportunities by allowing access to statements and invoices online. Each customer may configure invoices to be sent direct by fax or email, either instantly or at each days end, in various download formats.
Energy Efficiency Solutions
Smart use of energy is not just good for the environment; it can provide big savings for your wallet as well. Working with the leaders in LED Lighting, Lighting Control, Solar, Electricity Storage and Power Factor Correction MMEM can work with you on delivering more energy efficient solutions at your home and workplace. No matter the budget, our preferred suppliers will have a product solution to suit your requirements.
Authorised Buyers Cards
Authorised Buyers Card is a system that keeps track of an individual's purchases which provides security and allows businesses to allocate materials against the right job and provide full reporting information in a number of formats. Goods can only be charged to account via scanning of the bar-coded card or password identification.