Our History
Our parent company, Metal Manufactures Pty Limited, was established in 1916 and has evolved into a large and diverse Australian company. Current operations of Metal Manufactures Pty Limited include MM Electrical Merchandising (MMEM), MM Kembla, MM Plastics, Rushmore Distributors, MM Security, MM Infrastructure Supplies, Synergy Business Systems and Building & Industrial Supplies Group/CSS, employing over 3,000 staff throughout Australia.
MMEM is a trade wholesale distribution business, specialising in a one stop sourcing and supply solution. Customers rely on MM Electrical for electrical, communications and data, solar, lighting and associated electrical component products.
MMEM's decentralised service centre model provides customised inventory and dedicated sales teams to support local customers. This is delivered by our national network of stores and closely aligned preferred supplier partners. This partnership between supplier subject matter experts and MMEM support personnel provides our customers and their end-users with industry leading technical expertise as well as product & service innovation.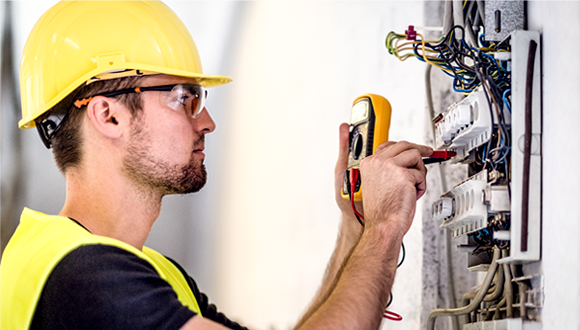 1916
Date our parent company,
Metal Manufactures Pty Limited, was established

3,000
Staff throughout Australia

400
Service Centre locations across Australia
Under private ownership since 2000, an overarching culture based in respect for our people, service, integrity, and reliability has been instilled into the organisation – a hallmark of the shareholder's approach globally. Over this period we have grown to over 400 locally managed service centres.
MMEM on-line provides an additional range of tools and access to support account customers with a range of value added services to reduce cost and provide efficiency.
MMEM play's an essential role in supporting a range of customers across the residential, commercial and infrastructure construction, power generation, solar, services, mining, manufacturing and agriculture industries.
Our Approach
Today, MM Electrical Merchandising is many things to many different customers: an expert consultant, a logistics company, a technology provider, and more generally, a distributor of wide-ranging electrical and industrial products.
These aspects of our service share a common foundation: great people, close to our customers.
In addition to our people and customers, MMEM recognises importance of supporting the community that we operate in through financial and in-kind donations and sponsorship.
Our policies describe our principles and guidelines by which we operate.